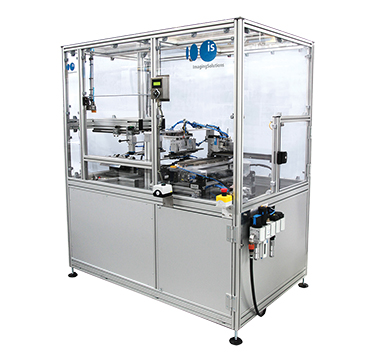 fastFrame 300 is a fully automated canvas stretching machine. It mounts up to 100 canvases per hour and needs about 25 seconds per frame, depending on the size. This is several times faster than manual production. The quality and precision of the frames are consistently high. fastFrame 300 is very easy to operate.
This system produces top-quality mounted canvases in extra small formats quickly and cost-effectively.
Every format uses a specific, easily interchangeable format plate. They are manufactured according to your specifications. When using frames with different thickness, you can easily adjust the height of the frame table. Simply test your material and your frames in our demo center.
Key Features
Fully automatic stretching and mounting of small canvas prints
Continuously high production quality
Performance: up to 100 frames per hour
Format range:
min. 4" x 4" to max. 12" x 12"
(min. 100 x 100 mm to max. 305 x 305 mm)
Panel thickness:
0.6″ – 2.0″ (15 – 40 mm)
Panel width (profile):
min. 0.6″ (min. 15 mm)